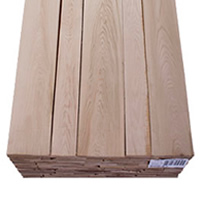 Introduction
Widespread throughout Eastern USA. The oaks are by far the largest species group growing in the Eastern hardwood forests. Red oaks grow more abundantly than the white oaks. The red oak group comprises many species, of which about eight are commercial.
The sapwood of red oak is white to light brown and the heartwood is a pinkish reddish brown. The wood is similar in general appearance to white oak, but with a slightly less pronounced figure due to the smaller rays. The wood is mostly straight grained, with a coarse texture. The red oak tree gets its name because of the colour of the leaves in the 'fall' (Autumn).
Wood Performance
The wood is hard and heavy, with medium bending strength and stiffness and high crushing strength. It is very good for steam bending. Southern red oak has a more rapid growth than Northern red oak and tends to be harder and heavier. Main uses are Construction, furniture, flooring, architectural interiors, internal joinery and mouldings, doors, kitchen cabinets, panelling, coffins and caskets. Not suitable for tight cooperage. Red oak can vary in colour, texture, characteristics and properties according to the growing region. It is therefore recommended that users and specifiers work closely with their suppliers to make sure the wood they order is suited to their specific needs.
Red oak machines well, nailing and screwing is good although pre-boring is recommended, and it can be stained and polished to a good finish. It dries slowly with a tendency to split and warp. It has a high shrinkage and can be susceptible to movement in performance.
Working performance:
Product Description
Available in 4/4".
Thickness: up to 23.8mm hit&miss, tolerances -0/+0.3mm
Width: up to 1300mm, tolerances -0/+5mm
Length: up to 4000mm, tolerances -0/+5mm
Width of lamellas: 40~70mm, mixed
Moisture Rate: 8~12%
Glue: Glue: Two-component D4, EU REACH & JAS Testing.
Sanding: 120 grit

CX JOY Hardwoods can offer customized dimensions, grades and crafts for your requirement.

Grades