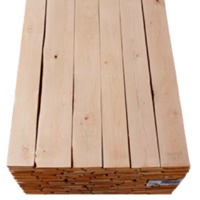 Introduction
Red Alder is the Pacific Northwest's most abundant hardwood and supply a growing market along the West Coast, in Asia, and in Europe for furniture wood. it grows best in moist conditions at lower elevations throughout its range, where trees may reach heights of 120' and diameters of 36".
It is almost white when freshly cut but quickly changes on exposure to air to light brown with a yellow or reddish tinge. Heartwood is formed only in trees of advanced age and there is no visible boundary between sap and heartwood.
Wood Performance
Red Alder is a relatively soft hardwood of medium density that has low bending strength, shock resistance and stiffness. Main uses are for furniture, kitchen cabinets, doors, interior mouldings, turning, carving and kitchen utensils.
Red Alder machines well and is excellent for turning and polishing. It nails, screws and glues well, and can be sanded, painted, or stained to a good finish. It dries easily with little degrade and has good dimensional stability after drying.
Working performance:


Product Description

Available in 4/4", 5/4", 6/4" and 8/4".
Thickness: up to 50mm, tolerances -0/+0.3mm
Width: up to 1300mm, tolerances -0/+5mm
Length: up to 3000mm, tolerances -0/+5mm
Width of lamellas: 40~70mm, mixed
Moisture Rate: 8~12%
Glue: D3 PVAc (environment friendly), EU REACH & JAS Testing.
Sanding: 120 grit

CX JOY Hardwoods can offer customized dimensions, grades and crafts for your requirement.
Grades